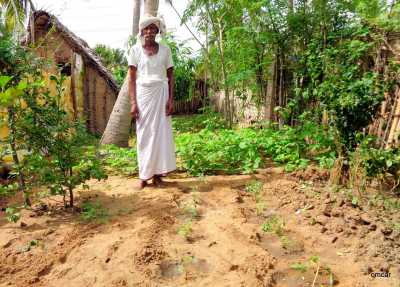 Palk Bay, Indien
The project is focusing the development of organic farming and promotion of good practices in land use to enhance income, nutrition, food security of rural communities and climate change mitigation in Palk Bay, India.
Page path:
The OMCAR farm - a self-sustained centre for sustainable living
Development of a cooperative organic agriculture in the south of India
Overuse of pesticide and inorganic manures have been damaging the farmland that also affect the nearby coastal areas in Palk Bay. In the past two decades the region has been facing various health issues due to pesticides, reduction in fertility of land, loss of natural trees and herbs. The farmers become hopeless about their products and its market prices.
However, due to growing awareness about eco­friendly, organic products even in small towns, there has been a steady growth for organic farm practices. Poor and low­income communities living in this area are in a position to adopt themselves to new organic farm practices to improve their livelihood, health and environment. But they have no opportunity to start the good organic practices.
What is planned:
In a first step of this project, which will initially run for four years, The target villagers will be invited to attend our meetings to introduce about the formation of cooperatives among themselves, how the cooperative can utilize the project farm land for cultivating seasonal crops on year wise agreements using organic farming methods. The interested persons from each surrounding village of the proposed farm will be organized to set up a registered cooperative with local government. They will be further trained by OMCAR Foundation about organic farming methods, market links and sharing benefits. Finally, 50% percentage of proposed farm land will be given to them on lease every year, with the technical support for organic farming. The products will be directly sold to local towns supply chains.
It is expected that the 30 acres of land will be completely transformed to sustainably utilize renewable energy and rain water to convert into food supply, without pesticides and inorganic manures. Local people cooperatives will learn how the organic way of farming is important, while they will earn good income through seasonal crops of the proposed farm land. The farming activities will become role model for other villages, who can learn it from the proposed farm.
Why it is important:
There are no such cooperative organic farming initiatives exists in the project area. Small scale farmers of the region have no experience or learning platform on good organic farm practices and market linkages. Landless, low income, low cost labour communities have no opportunity to join together to grow, eat healthy food and earn money from organic crops. So, the proposed project is first of its kind in this region, which will be providing an open platform in participatory system in which they work together to grow and sell their organic products through OMCAR and its market linkages by fair trade policy. The project is aimed to solve the above issues in a grassroot level by providing open platform for cooperative organic farming with low income communities to improve their socioeconomic, health and environment.
Where's the money going
Purchasing 30 acres Land
Setting up Organic Farming Cooperatives and Training
Purchasing basic agricultural equipment
Installation of Solar energy supply units
Improving Water resources and rainwater supply
Land lease allocation to community cooperative groups
Plantation of local, native and endemic forest trees, shrubs and medicinal plants in 6 acres
Coconut tree, mango, jack fruit, guava and other local fruit trees plantation in 9 acres
Installation of solar dryer unit for value added products
Community trainings for organic farming and value ­added products, for environmental conservation, Community trainings and tree plantation, Community trainings on organic manure production methods (for 600 persons each)
Who's gonna do it?
Dr. Vedharajan Balaji and his team have a strong rapport with local communities for more than a decade in the coastal and adjacent villages of Thanjavur District. Dr. Balaji is the founder and director of the OMCAR Foundation and together with his staff he is responsible for the implementation of the project.
OMCAR Foundation is a member of IUCN (International Union for Conservation of Nature), and its founder Vedharajan Balaji received IUCN Young Professional Award during World Conservation Congress in 2012 held at South Korea.
Dr. Balaji is native to this region and established OMCAR Palk Bay Centre in 2011 with the partnership of Lighthouse Foundation, Germany and Deepwave. This centre has been running for 8 years as a grassroot open platform to provide non­ profit services to local community in the same proposed area. The services includes environmental education, livelihood training for fisher women, technical workshop for mangrove restoration, sea grass restoration, tree planting, disaster response and health camps for local communities.
The OMCAR team has traditional experts from the project area in livestock management, farming maintenance, organizing local community, tree nursery management, coconut farming and rice culture.
Donation Account:
Foerde Sparkasse
Lighthouse Foundation
IBAN DE36 2105  0170 1003 9417 52
BIC: NO­LA­DE21­KIE