Page path:
International: GAME - Marine Researchers study globally
International: GAME - Marine Researchers study globally
GAME is in an international programme that combines applied research with the academic training of young scientists. Every year, parallel research projects on current ecological issues are organised at different locations around the world. The research work is carried out by students who work together in bi-national pairs and who are supervised by scientists from GAME's partner institutes. The unique GAME approach provides generalizable insights into urgent ecological issues. At the same time GAME connects GEOMAR to numerous partner institutes worldwide and creates a global network for the sustainable exchange of scientific knowledge. GAME currently cooperates with 35 marine research institutes in 26 countries. This network is growing.

GAME focuses on the coastal regions of our planet, as they are of paramount importance for humanity: They store major food resources, provide carbon dioxide sinks and stabilise coastal lines. Already, more than 50% of the world's population live close to the sea and this percentage is increasing continually. For this reason, coastal seas are most affected by the effects of global change such as climate warming, sea level rise, species invasions and intense human use. This can have far-reaching consequences for the ways in which these ecosystems function.
GAME studies the effects of global change on coastal seas. Several projects, for example, have studied factors influencing their biodiversity. GAME is also focusing on issues in invasion ecology and studies the ways in which environmental changes affect the interaction between species.
GAME offers students of the life sciences the opportunity to do their MSc projects in the frame of a global study.The practical part of each project takes place at one of the GAME partner insitutes and these experiments are conducted by bi-national teams that consist of the German participant and a student of the hosting institute. Project preparation and the analysis of the global data sets both take place at GEOMAR in Kiel. The first includes the development of the experimental design, literature research on the current topic and an introduction to biostatistics. The second course expands the latter to more complex statistical modelling and adds a comprehensive teaching module on communicating science - including how to develop oral presentations and how to write a scientific paper.
GAME is an international student training and research programme intended to further international experience and cooperation among young scientists. During their project term, participants address a marine-ecological problem in simultaneous experiments at coastal sites distributed widely over the whole globe, most importantly including the southern hemisphere. After finishing practical work, the experiments are evaluated collaboratively in Kiel.
GAME 2018: Grazing in a warmer ocean revisited – will marine invertebrates change their food preferences?
In the last GAME project, the student teams found experimental evidence for the assumption that consumption rates of herbivorous invertebrates will increase when the ocean gets warmer. However, their experiment was (like all experiments) somehow limited, since they offered their test animals a mono-diet that did not give them the chance to change their food source. In this year's GAME project, we will now investigate whether the food choice behaviour in marine invertebrates is also affected by water ocean warming. The project will already start in two weeks from now and it is therefore high time to inform you about the preparations for it.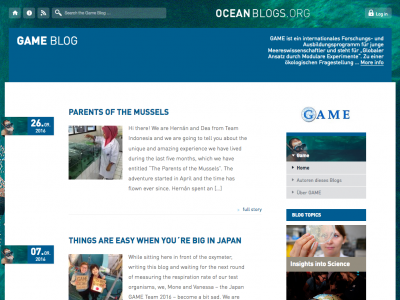 2017 - GAME XV deals with the question of whether rising water temperatures will alter the feeding behavior of grazers in marine ecosystems.
2016 - GAME XIV deals with interactive effects of heat stress and microplastic ...
2015 - GAME XIII deals with the tolerance of sea anemones to heat stress. In the course of global warming, the average water and air temperatures worldwide will increase and also the temperature peaks during summer heat waves will be higher.
2014 - GAME XII addresses the effects of microplastics on marine organisms. The subject of microplastics is good for making people aware of the marine ecosystem and marine research ...
2013 - GAME XI addresses the impact of microplastic particles on the stress tolerance of marine deposit eaters. In addition to the entry of nutrients, heavy metals and organic pollutants, it is mainly plastic waste that has led to massive pollution of the oceans by humans in the last 60 years ...
2011 - GAME IX deals with the distribution patterns of marine species. Marine areas of various latitudes differ greatly in terms of the constancy with which energy is available for their life processes in them ...