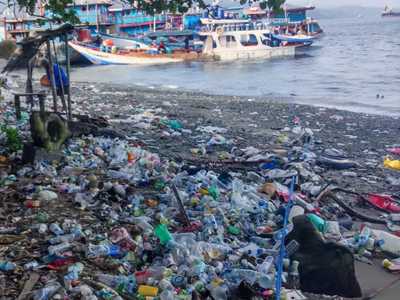 The ob­ject­ives of the pro­ject are:
42 schools with 4,200 children use only returnable cups and dishes.
The children learn how to reduce waste.
The children develop their own creative recycling ideas.
The children gain practical experience in separating different types of waste.
The children carry what they have learned into their families.
The schools of the Banda Islands become a role model for other schools in the Moluccas.
Page path:
Plastic garbage free schools on Banda Islands
Plastic garbage free schools on Banda Islands
With an es­tim­ated 0.5-1.3 mil­lion tonnes of plastic en­ter­ing the ocean every year, In­done­sia is the world's second largest pro­du­cer of mar­ine waste. As an is­land state, In­done­sia faces enorm­ous lo­gist­ical chal­lenges in the col­lec­tion, treat­ment and dis­posal of waste. Suc­cess­ful waste man­age­ment strategies come from the com­munit­ies them­selves, es­pe­cially if they are loc­ated on small and re­mote is­lands.

This is the case on the Banda Is­lands, a small group of is­lands in the middle of the Banda Sea. In 2012, a mu­ni­cipal waste man­age­ment sys­tem was set up there, which since then has in­cluded more and more vil­lages. Sup­por­ted by the Ger­man found­a­tion BandaSEA e.V., it has since been run by Magafira Ali, the Bandane­sian and former Eng­lish teacher and chair­man of the LuminoceanFound­a­tion.


Magafira be­lieves that only a change in life­style can per­man­ently re­duce the amount of plastic waste in the seas. The stu­dents of the Banda Is­lands are there­fore at the centre of this pro­ject, be­cause through school every single child of Banda can be reached, i.e. a com­plete gen­er­a­tion of fu­ture de­cision-makers. The chil­dren's know­ledge will also lead to be­ha­vi­oural changes in their fam­il­ies and hope­fully set an ex­ample for other com­munit­ies in In­done­sia.
The total cost of the pro­ject is 33,150 € for:
Introductory event at all schools (3 teachers per school): 1.050 €.
Training of "green mentors" € 2,350
Mugs, plates, bottles and water dispensers: 9.550 Euro
Printing of the teaching program for all schools: 300 €.
Teacher grants for one year: 16.800 €.
Invitation of other teachers from other communities to the end of the year: €3,100.
We count on your support!
For more information:
Donation account:
Foerde Sparkasse
Lighthouse Foundation
IBAN DE36 2105  0170 1003 9417 52
BIC: NO­LA­DE21­KIE
Even more par­ti­cip­a­tion