Page path:
Indonesia: Child Aid Papua Environmental School
Indonesia: Child Aid Papua Environmental School
Child Aid Papua has established an environmental school in the heart of Raja Ampat. Since January 2020 Child Aid Papua has the official high school accreditation of the Department of Education of Raja Ampat and is therefore able to offer a certified high school diploma.

Child Aid Papua High School provides students with a quality education from the 7th to the 12th grade. The students are individually supervised and trained in all subjects. The main focus is always on teaching and implementing environmental awareness.

In addition to the school lessons, our high school students have the opportunity to participate in interesting internships within and outside the region or even abroad.

Child Aid Papua High School is free for all students and offers unique opportunities for all our graduates.
Child Aid Papua Environmental School teaches children and teenagers aged 9 to 18 years across different grades.

Primary School (4th-6th grade, 25 students): Tourism in Raja Ampat has been growing exponentially for several years and provides some of the few job opportunities in the region. In order for the locals to benefit as well, communication in English is essential. Our English classes are integrated into the official education system and thus enjoy a high status.

Environmental classes (4th-9th grade, 30-40 students): Every Thursday, between 30-40 students attend environmental classes. Through practical and continuous experiences, we anchor the idea of environmental protection in our students. Through various projects (e.g. the Ocean Warrior waste project), the children and young people are made aware of the importance of environmental and marine protection in Raja Ampat.

Junior High School (7th-9th grade, 8 students): In summer 2021 we opened our first Junior High School class. Eight students attend Child Aid Papua Junior High School classes daily. Environmental education is integrated into the daily routine and is put into practice through environmental projects. The demand for the education offered by Child Aid Papua is very high in the region. Therefore, the infrastructure has been expanded and in the summer of 2022 another Junior High School class with 10 students will start.

Senior High School (10th-12th grade, 2 students): In summer 2020 we opened our first Senior High School class. Students will be trained in all subjects. A strong emphasis is placed on environmental education and sustainable tourism, with gaining real-world work experience also an important element.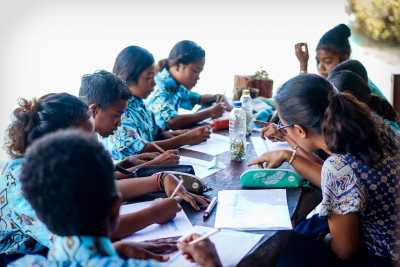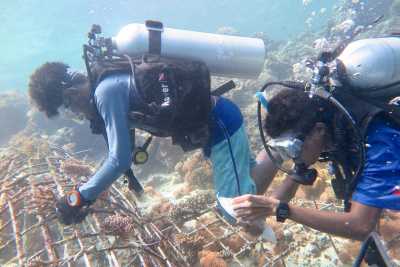 The Child Aid Papua Environmental School has become very important in the Raja Ampat region in the last two years. The demand for the educational offer exceeds the current supply.

Internship

Since 2021, our senior high school students have completed various internships during their school years. For example, students have been to Bali (Open Water and Advanced OW dive training) to obtain international Reef Check training with local organizations. They also did internships at different dive resorts in the Raja Ampat region, where they gained insight into different areas of work.

Project "Ocean Warrior"

Through our project "Ocen Warrior" the children in Raja Ampat learn why plastic waste is a problem for nature and what they can do about it. By means of the book 'Ocean-Warrior' written for this purpose, the children experience a story from their region and therefore it remains particularly well in their memory.

The project has been led by one of our senior high school students since 2021. It includes a discussion of the book followed by a playful introduction to the topic of waste through games and presentations. This is followed by island cleanups, during which an average of 40-50 kg of waste is collected and sorted out.

Because of the great success, another book called 'Conservation Heroes' has been written and is available in Indonesia, Germany and Switzerland.

School coral garden

Since October 2020, a school coral garden has been planted together with the students in order to put the learning objectives of the environmental lessons directly into practice. More than 2,000 coral fragments have already been planted and a better understanding of the importance of corals has been created among our students.