The original mangrove forests along the Indian coastline have almost completely disappeared as a result of logging. This is the case on the coastline of Tamil Nadu - the "land of temples" - in Southern India, an area that has also been severely affected by the Sumatra tsunami.
However, when the forest goes, so does the natural shelterbelt against storms, flood waves, flooding and coastal erosion. What is more, a large number of economically important fish species depend on the mangroves for spawning grounds and shelter and it's not just these fish populations that see the basis of their existence removed when the mangroves are destroyed.
Since 2005, larger areas have been restored. The project's Palk Bay Center (PBC) today focuses on environmental education and the development of sustainable fisheries.
The director of Omcar Foundation, Dr. Vedharajan Balajii, introduces his work.
November 2019
For the fouth time we have donated goats to artisanal fisherwomen, this time 30 female goats. This village named "Petthanachivayal" is a very small fisher settlement. All of them are traditional fisher and fisherwomen are playing a key role in earning income by catching shrimps, crabs in mangrove waters. 195 families, only few houses have electricity and no drinking water pipeline.
We are planning to work in this remote, isolated, backward artisanal fisher community on a longterm basis to improve hygiene, livelihood and basic facilities. In turn, these mangrove artisanal fisherwomen can be a key working partner in mangrove restoration which is damaged by last year's cyclone.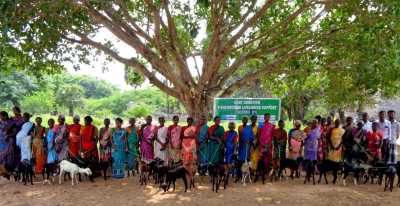 June 2019 - a fieldwork update of PBC. 
1)  We have successfully established another seagrass rehabilitation protected site. So, now we have five sites managed with the support from local government.  But, PBC will manage, replant and monitor the sites like Mangreen sites.   Significance of this site is we grow the largest seagrass species here (grow up to 4 feet - please find the photos below) which is rare in Palk Bay but providing shelter to lots of crabs, fishes in nearshore waters. Survival of this large species is higher in high turbidity waters except for the damage by boats (so we fenced it).  
2)  Crab culture by a fisher group will start in the Mangreen site in the next two weeks.  
3) We accommodate a women researcher at PBC from the government institute for studying seagrass associated fishes.  
4) Our staffs will go for Spirulina culture training next week. 
January 2017 - "Youth Solutions Report" presents PBC project:
At the end of January 2017, the Sustainable Development Solutions Network (SDSN) published the first "Youth Solutions Report". Therein, 50 exemplary projects are presented in which young people participate in the implementation of the United Nations Sustainable Development Goals. One of these projects is the Palk Bay Center with Mangrove Restoration For Sustainable Fishery.