Page path:
Mexico: Sustainable Tourism at the caribbean coast
Mexico: Sustainable Tourism at the caribbean coast
The Amigos de Isla Contoy have implemented in 2012 what they had planned - more than that: it was possible to raise additional funds and to push forward eight projects in the field of biodiversity, ecosystems and marine resources. Some of these additional projects have also been the basis for the work that has just begun in 2012. 
Since 2001, the Lighthouse Foundation has been active in the region on the east coast of Yucatan, on Isla Contoy, Isla Mujeres and in neighboring Cancun. The projects carried out since then by the association "Amigos de Isla Contoy" (AIC), and in particular by the biologist Catalina Galindo de Prince, revolve around the sustainability of tourism and the sustainable lifestyles of the people of the region, on marine pollution and species conservation, the use of marine resources or networking with strategic partners.

But the common thread that runs through many years of project work is Education for Sustainable Development (ESD). In a variety of events Catalina addresses to schoolchildren, islanders and urbanites, fishermen and hoteliers, to students and teachers in schools and colleges.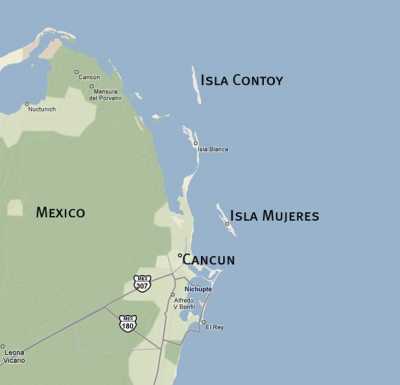 Catalina Galindo: "The Amigos de Isla Contoy (AIC) have been able to develop good contacts with mayors and other officials. Over the past few years, they have been very supportive of our events and activities on Isla Mujeres and Isla Contoy. Through our work, we were also able to develop a trusting relationship with the Ministry of Education and thus facilitate the implementation of our educational program in schools."
"Beyond the transfer of knowledge, I am now increasingly concerned with strengthening the public's ability to criticize the current state of the coastal environment. And, of course, the sound engagement with sustainable development goals, practices and solutions that contribute to the protection and conservation of natural systems in the region.
To achieve these goals, I have sought to form alliances and partnerships with individuals, NGOs, public administration at the local, state, and federal levels. I co-operate in the development and implementation of programs, projects, workshops, the production of environmental education materials and exhibitions with educational and research institutions, companies and NGOs."

Report by Catalina Galindo de Prince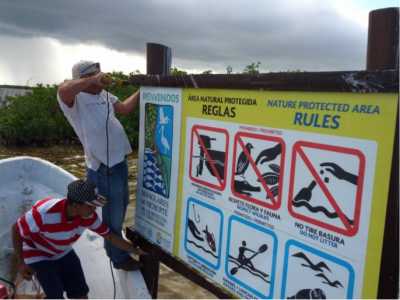 "Flows" leads you on a journey never before taken, exploring the aquifer on the Yucatan Peninsula in Mexico. Flows will show you unique footage from the air and underwater, taking you more than a kilometre into a submerged cave system to see the incredible mirror mirage where salt and fresh water meet, discovering a prehistoric skull more than 10,000 years old and much more.
2001 - 2003
Conception, equipping and support of the already existing Visitor Center in the Marine National Park on Isla Contoy

Analysis of resource requirements

Design of a technical solutions to meet water and energy needs.
2004 - 2006
Analysis of waste streams and development of a recycling concept for waste management on Isla Mujeres

Training of nature guides and boat crews for nature and environment-friendly behavior

Installation of an integrated water and energy supply on Isla Contoy

Formation of a network of environmental and educational actors in Quintana Roo

2007 - 2017
Development of training courses on waste management, environmental education, biodiversity and marine ecosystems.

Educational work on the waste problem on Isla Mujeres.

Courses for the Department of Environment and Natural Resources on biodiversity and climate change and recycling

Orientation and participation in numerous events in kindergartens, schools and universities, at conferences and congresses in the region.

Conducted workshops with various regional and local organizations

On-going presentations of the exhibition series on the Isla Contoy National Park and a program for the conservation of whale sharks.

In 2015, Amigos de Isla Contoy (AIC), with its projects, programs and environmental education activities, will reach nearly 100,000 people in the coastal area of ​​the Yucatan Peninsula

Active conservation work in the region, e.g. m

onitoring of migratory birds, sea turtles and whale sharks, mangroves and corals

Organization of recycling of recyclables on Isla Mujeres.

The collected materials, mainly plastic bottles, cardboard and paper are forwarded to recycling companies.

Establishment and operation of a community center for environmental education in Isla Mujeres from 2008

Promotion of tourist offers from the islands of Contoy and Mujeres: renewal of the exhibition, design and installation of a snorkelling park with historical artefacts under water.

Opening of an exhibition on underwater archeology in the Mexican Caribbean

Training of nature guides for nature and environment-friendly behavior

Support and training of Cooperativa Vision-Mujer members in the establishment of lobster breeding.

Further development and maintenance of a network of organizations of nature and environmental protection